As well as a lawn feeding programme, having a scarifier in your arsenal is essential for a multitude of reasons. That means choosing the right tool for the job is also going to be essential for:
Reducing the physical challenge
Increasing the amount of thatch that's removed
Increasing the speed and therefore coverage you can do in one go
So, in this post I'm giving you the different lawn scarifiers, you could use to get rid of thatch and even stubborn moss. I'll also tell you whether it's worth investing in an electric one or if you should just stick to the manual options based on your lawn size or physical.
First, here's a list of the different tool options available
What are the different lawn scarifiers on the market?
You can use virtually any type of rake to scarify the lawn. Some will be more effective than others and ones that a specially designed for the job may be needed.
But some of them you might already own and that begs the question "what's the point in investing in a brand new lawn scarifier?". Hopefully I'll help you answer that here.
Simple Stiff Soil Rake or Landscaping rake
Leaf Rake
All-round garden rake
Specialist Scarifying rake
Specialist Wheeled Lawn Scarifier
Verticutter
Electric Drum (corded) scarifier
Cordless Drum Scarifier
Simple Stiff Lawn Scarifying Rake
Price: Low
Useful as lawn scarifier: Deep
Difficulty: High
Best for Lawn Size: 0-30m2
This is one you'll most likely have one in your shed already. Ir if you're like me one of your parents has donated it to you when you moved into your new home. In other words, they last for years.
Not just used a a lawn scarifier, these rakes will give you lots of usage around the flower beds, lawns and even stones.
Meaning there's minimal hit on your pocket.
One challenge though.
It's very manual and they can be very harsh on the grass while pulling out the dead thatch or moss from underneath. They will even scratch into the soil bed.
Conclusion:
I'd only recommend these if your doing a full Spring renovation. Such, as overseeding and top dressing
Plastic Leaf Rake
Price: Low
Depth as scarifier: Not deep
Difficulty: High
Best for Lawn Size: 0-30m2
This is the best tool for getting leaves off the lawn (other than a leaf blower of course).
That's not all, you can also give the thatch a good rake out with one of these. They're not that strong though so won't go very deep. Perfect in the Summer if you just want to clear out some of the dead grass.
Tried & tested
I've got a big Fiskars one, which cost about £20. It does a great job of picking up leaves. But I rarely use it as a scarifier
All-round Garden Rake as a scarifier
Price: Low
Depth as lawn scarifier: Medium Depth
Difficulty: High
Best for Lawn Size: 0-30m2
I'm basically referring to your classic tine rake. Some call this a lawn rake but I call it an all-rounder.
This is another tool that you likely already have in your locker if you're a keen gardener
Tried & Tested
I've got an RHS certified rake, which is also FSC Certified. I mainly use it for raking out any brown patches before repairing them with an overseed. However I would never use it to do the whole 70m2 of my grass.
All these rakes are very similar but you can get ones with contract and expand so if you don't have much storage space, it could be worth checking one of these out.
Specialist Scarifying Rake (Without Wheels)
Price: Medium £30-£50
Depth as lawn scarifier: Medium Depth
Difficulty: High
Best for Lawn Size: 0-30m2
These have the same aesthetics as normal rakes but with one slight difference. The teeth are actually curved at the end. This curvature helps to get right underneath the gras and into the deep thatch.
While these still require a fair bit of manual work you should be able to achieve more with in a shorter time when compared to a normal rake.
That said, would I recommend you get one? Well, it depends on your lawn size. If it's over 100m2 then probably not.
That's because any smaller patches can be done with a standard rake and if your doing the whole lawn then you're probably better with an electric one.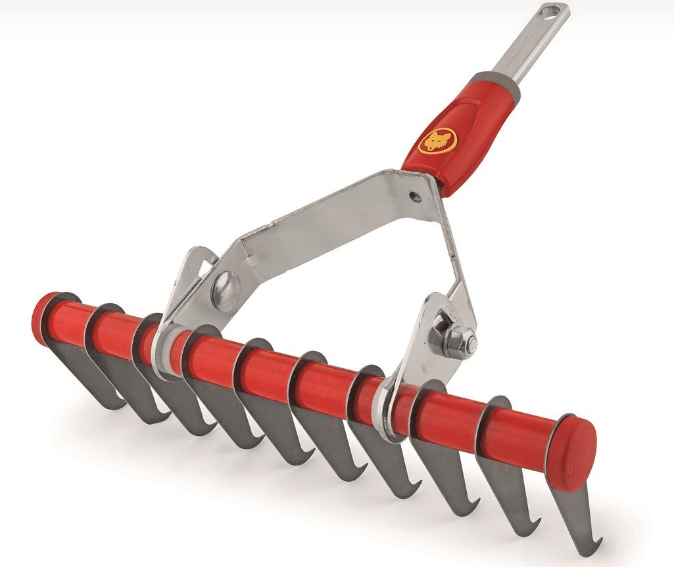 Specialist Scarifying Rake (With Wheels)
Price: Medium £35-£75
Depth as lawn scarifier: Medium Depth
Difficulty: High
Best for Lawn Size: 0-30m2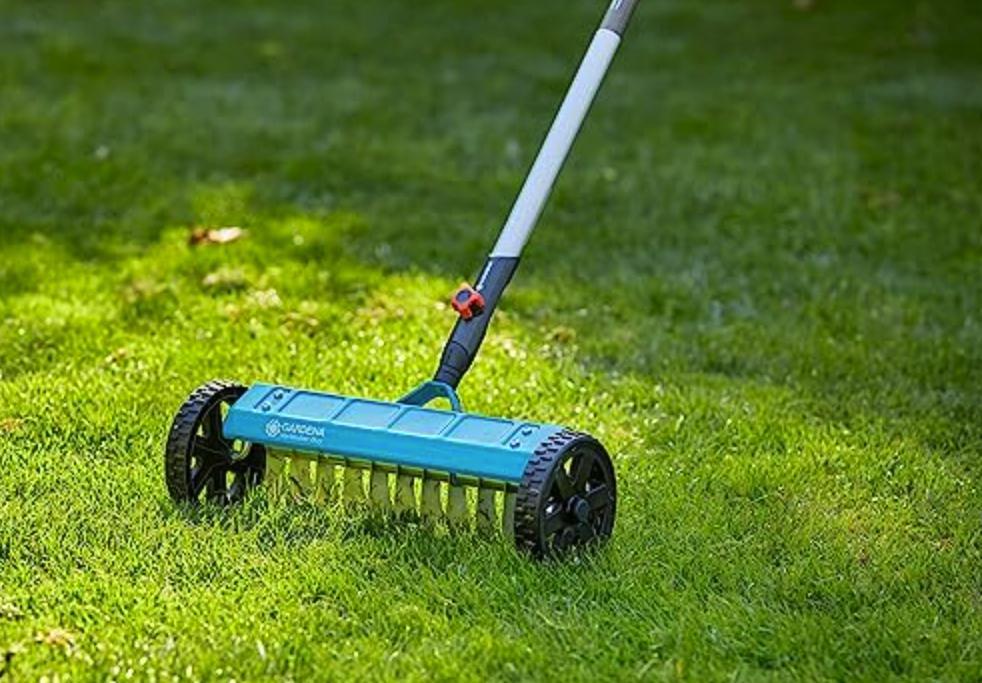 Electric Drum (corded) scarifier
Price: Medium to High £70-£160
Depth as lawn scarifier: Deep
Difficulty: Easy
Best for Lawn Size: 100-500m2
This is my absolute go-to lawn scarifier. I use mine at least once a year – sometimes 2-3 times a year on a higher setting. So, of course, I 100% recommend one of these.
You can get round 100m2 in about 10 minutes with one. Meaning the hardest part is actually picking up everything it's pulled out.
The best part?
They're not even that expensive. Yes, slightly higher price tag than your average rake but if you're using it every year, you'll get your money's worth.
I've even leant mine to family and friends who've never used one before and they're shocked at how well it gets up the thatch and moss.
Remember though.
When using one of these, your lawn will look worse before it looks better. That's where the overseed and feed comes in
Most will come with 2 different blades, one blade acts more of an aerator/scarifier and will get deeper into the soil. The other acts as a rake with thin tines and will get the thatch out really well.
Many of htese products claim to be an aerator too.
I'm not so sure though. In my view, this would never replace the need to aerate the soil. So, don't buy one based on the fact you'll save money on an aerator, you won't. Buy one based on how good it is at raking out moss thatch an pother unwanted species in your lawn.
Tried & Tested
Screwfix Own Brand : I've had this one about 5 years now and it's served me wonderfully.When I bought it for £69 it was probably the cheapest on the market.
It's super easy to control and gets really deep too.
Below is a picture of a Vonhaus so you can see what it looks like.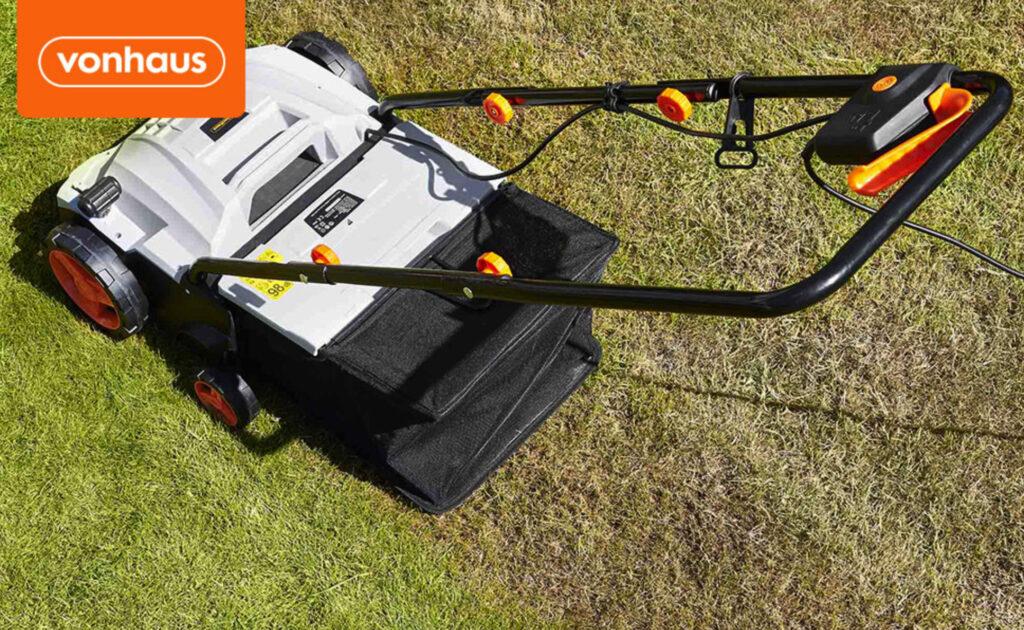 The Vonhaus scarifier has been tested by diygarden.com. So if you're looking to spend a little more on yours, you should read a bit more before making the final purchasing decision.
Don't confuse a scarifier with a verticutter
There's an important difference between scarifying and verticutting. Yes, they both control thatch but it's a completely different method. For the most part, you probably don't need to worry too much about verticutting your grass. Leave that to professionals. Whereas scarifying is an absolute requirement at least every couple of years.
Conclusion
If you want to keep on top of your lawn each year, then I'd highly recommend investing in some sort of scarifier.
If your lawn is under 30m2 then you can probably get away with a simpe manual scarifier.
Anything over 30m2 then I'd suggest buying (at least) a corded one.
But don't forget that it's not going to set you back too much in terms of cost so even if you do have a smaller area, then you could use an electric one too.
Ultimately, I find it best to have an electric one if I want to go really deep and a manual one for when I just want to get rid of some thatch but not wreck the lawn completely – like I would before I'm about to do an overseed.