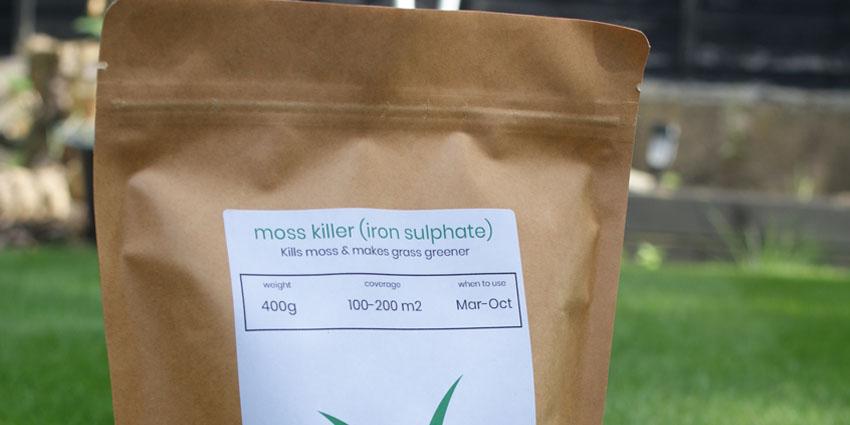 Moss! One of Britain's worst nightmares. But still an important part of the biodiversity eco system.
Anyway, this post will take you through the different methods of both preventing and removing moss from your lawn.
If you've read my other posts, you won't be surprised to hear that the control of moss begins before the season begins. Yeah, yeah In Autumn & Winter!
So, first of all I'd say the most common question is 'How do I REMOVE moss on the lawn' which says many people have difficulty keeping it off when it comes to the time that it needs to look nice.
Let's go through step-by step on getting the job done.
Removing moss from your lawn step-by-step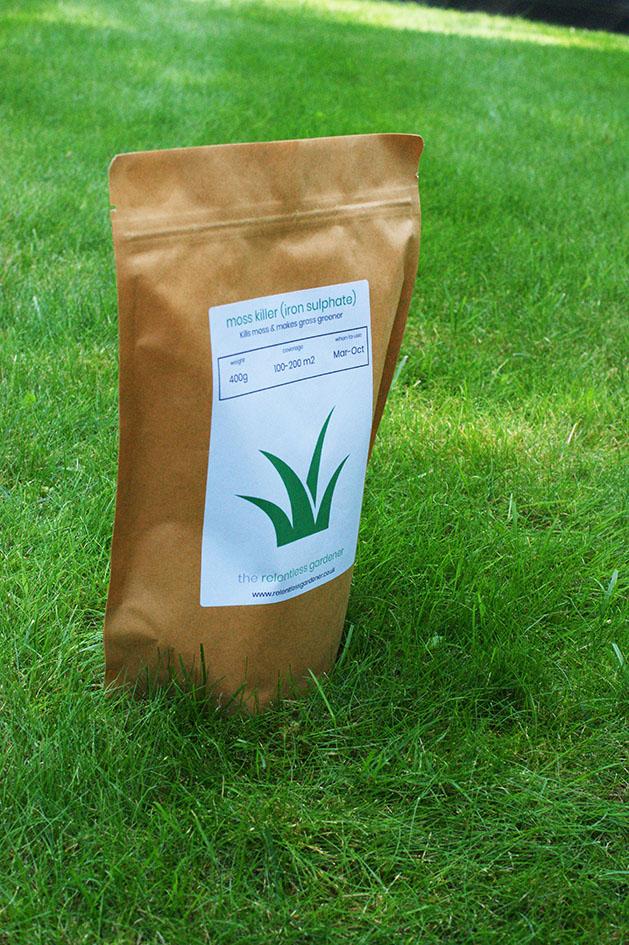 The first thing is – it's always best to use a proper moss killer that goes by the name of Iron Sulphate. Even more so if your grass is plagued with the stuff.
For me, these 2 in 1 or 4 in 1 just don't cut the mustard when it comes the doing a proper job – they are better at preventing small amounts of moss becoming bigger.
I have a garden which is surrounded by massive trees and wet soil so it's the perfect environment for moss to form.
Here's the steps
Get yourself a 6 litre or 10 litre watering can
Weigh out 4g of Iron Sulphate per litre of water you're going to use, That means it'll be 24g for a 6 litre or 40g for a 10 litre. NEVER go over 5g per litre of water cos it'll wreck the grass
Put a drop of water in the can
Pour in the correct amount of iron sulphate
Now fill up the watering can to the top. Watch out not to spill any on your way to the lawn – that always happens to me!
You can do this at any point but you need to mark out 6 m2 or 10 m2 (depending on the size of your watering can). I like to start in one corner of the lawn and work out from there using 4 pieces of wood to mark our the corners of the area I'm going to sprinkle
Now sprinkle the lot in your marked out area.
Once that's done, repeat steps 2 to 5
Then take 2 of the pieces of wood and mark out the corners for the next 6 m2
Repeat this until the whole of your lawn has been covered with the soluble mixture
Now for the physical part! after a few days, the moss will turn black. So, you'll want to rake it all out. If you have a lawn over 50 square meters, then I highly recommend investing in a scarifier. You can pick them up from many different places and they don't need to cost the earth.
So that's how you overcome a bad moss problem if you already have one. The thing is though, there are ways of preventing the worst of the moss creeping back into your lawn every Spring. That actually starts in Autumn.
How to prevent moss on your lawn every year
Simply by maintaining your lawn all year round, you can help prevent the worst of the moss coming back. This is done initially with an Autumn fertiliser, which gives the grass good root growth but not so much top growth (we need the grass to slow down as we get to the winter months.
Second, you should apply a Winter fertiliser, which will contain a good amount of Iron (Fe is the code on the less than complicated periodic table) to hit the moss right where it hurts. Yep in it's Nucleus!
That way the moss doesn't have time to develop before the spring and you won't need to be so aggressive when it comes to applying Iron Sulphate in March or April on your yearly calendar
Before I leave you with the above tasks, I just want to go through the options for removing moss and share my thoughts.
Which is the BEST Moss removal treatment

With so many options on the market and everyone claiming theirs is the best, here's just a few
Weed, Feed & Moss Killer
This is a mix of fertiliser, weed killer and moss killer. In my humble opinion, it is more a supplement for preventing moss rather than actually getting rid of a large problem. It will definitely help prevent it when used in conjunction with a solid
Fertiliser with added Iron
Added iron is usually found in the Winter fertilisers. It is added as a supplement to help kill any deep rooted moss and prevent it coming back in the future
Iron Sulphate
Saving the strongest 'till last. This is the strongest of the three options and will blacken moss relatively quickly before it will need raking out
Organic options
There are organic developments being made all the time and there are some organic materials that will actually eat the moss, which means you actually don't need to rake it out. Wow what a delight that is!