This year is an ambitious year for me and my lawn. I've had 3 years of of a beautiful sward. With minimal scarification and aeration but plenty of feeding.
But
It's in the shade. It has deciduous trees next to it. Meaning drainage is poor. Light is low.
Now it's time for a little extra TLC. The moss has returned with vengeance and I'm about to embark on my most intense moss busting programme EVER.
The Plan
So, below I'm giving you the exact plan (with dates) of when I expect to apply different products and how much of each will go down.
Then you can read about each product or task individually if you want to find out more.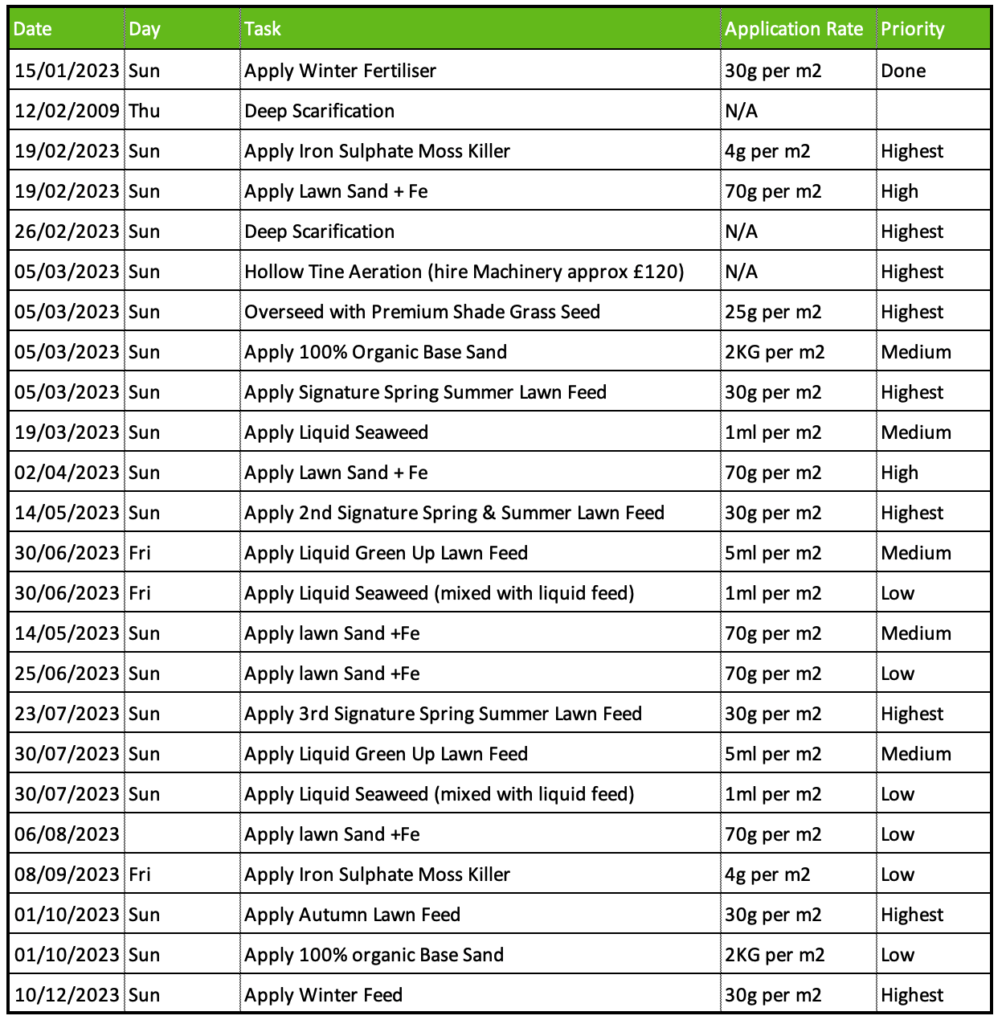 Products Used
Scarification & Aeration
Everything begins with a deep, deep scarification and a real good hollow-tine aeration. This time I'm going to hire an automated aeration machine so I can get the job done quicker. I wouldn't normally go to this extent but I'm keen to create some solid drainage in this lawn.
Moss Killer
Iron Sulphate will be essential early on. This will kill off the moss so it's ready for one more scarification before getting on with the overseed.
Granular feeds
Granular feeds are the backbone of any lawn care plan. This one is no exception. I'm going to apply 3 x Spring Summer, 1 x Autumn and 1 x Winter Feed before the turn of the year.
Each granular feed will be a minimum of 8 weeks apart.
Chemical Lawn Sand with Moss Killer
One of the key ingredients to this plan is the use of lawn sand which contains 1% Iron (Fe). The sand itself will create better drainage. The iron will help suppress the moss during the Summer with a good chance of it being well reduced next season. This sand also contains
Note, I won't be using this sand for top dressing becuase it contains iron. It will purely be used as an extra moss suppressant.
Organic Sand
I'm applying 2 helpings of organic sand but instead of doing it at 1KG per m2, I'll be doing it at 2KG per m2. Doing so will give me a nice flat playing surface. It will also create a less favourable soil for moss to grow. What's more, the sand will create better drainage as it works its way into the hollows that the aeration created.
Liquid Feeds
I'll be applying my liquid lawn feeds and liquid seaweed at exactly the same time.
Why?
Because they massively complement each other in helping to improve the colour of the sward, while getting the grass safely through a drought period.