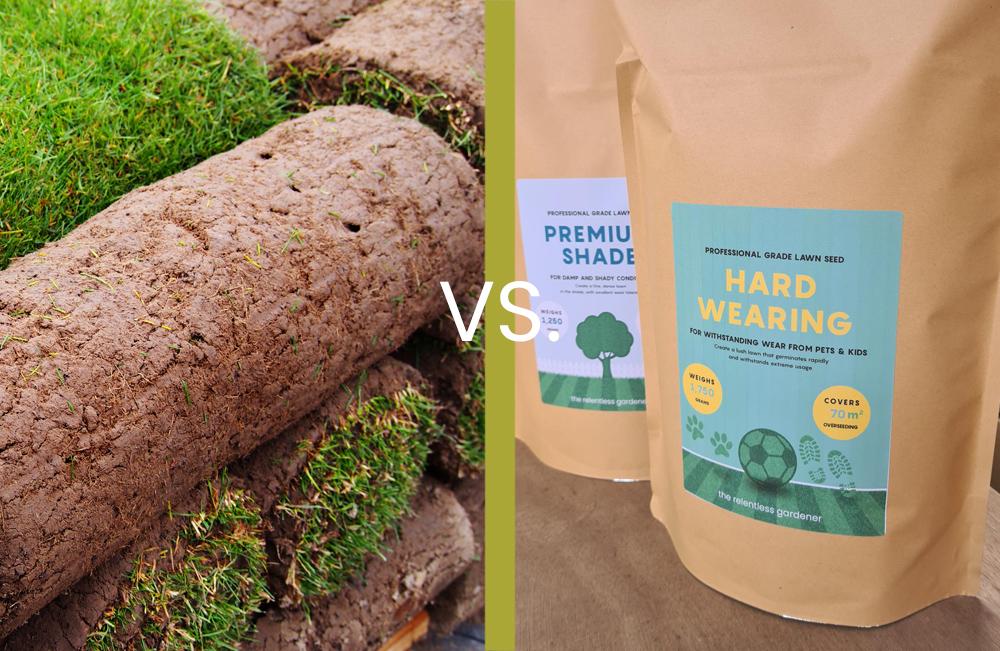 When building a lawn from scratch, the first question you'll ask yourself is 'What's best turf or seed?". This article will help you make that all important decision.
I won't beat around the bush though. My personal choice every time would be to seed. Though that doesn't mean it's everyones.
So, let's take a look.
Advantages of sowing grass seed
It's cheap! The number one reason to sow seed is that it's way more cost effective than laying turf
You can buy the exact seed for your needs by choosing which type suits you best.
Seed will establish itself in your soil (not another soil bed). Meaning it starts life with much stronger roots. Meaning more potential for a much thicker sward
Seed is likely to last longer than turf because it doesn't need to embed itself from one soil bed to another. The stronger roots will definitely help with longevity.
Disadvantages of sowing grass seed
Conditions need to be right. Above 10 degrees consistently and a combination of rain and sun. Spring or Autumn is generally the best time but it can also be done in Summer as long as the soil is kept most while it germinates.
You'll need to keep usage to a minimum once the seed starts to establish itself.
For best results you'll want to apply a weed killer on the area, then wait 6 weeks before sowing the seed. That means increasing the waiting time but is well worth it.
Advantages of laying turf
You'll get immediate results, which is great for most people. Wembley stripes the moment you put it down.
You'll help prevent weeds from penetrating the grass because the turf will be laid on top of any weeds that are waiting to establish themselves later in the year. Then, the few amount of weeds that do come can be pulled out by had pretty easily.
You don't have to worry about heavy rain. On slopes, Heavy rain can wash soil away. It can also was seed into unwanted places. With turf, it ain't goin' anywhere – even with a torrential downpour.
With turf, you can be much more precise with the borders. Seed has a tendency to blow around. so, if you're not careful, you could end up with grass growing in flower beds and some of the lawn edges may look rough.
Disadvantages of laying turf
I'll be honest, there are lots of myths around laying turf and comparing it to sowing seed. Most of these are created by the people that sell turf because it means
It can't be laid year-round – much to popular belief. Well, it can, but if you lay it in Winter, then it isn't going to settle into the soil properly and you'll have bare patches the following Spring.
Turf is waaaay more expensive than seed. The chart below shows the price difference for different size lawns. Of course, the larger the lawn, the bigger the saving.
Remember too, that much of what you pay for, when buying turf online is the handling and delivery costs. While you can get seed delivered for under 10 quid, turf delivery is going to set you back closer to £100 at the low end.
You might need to wait if you want a specific type of turf. Turf still needs time to grow, so if you want a bespoke mix, then you're gonna have to wait for the best time of year for it to become available. Compare that to seed, where you can buy virtually any type of seed at any time of year, then sow it when you're ready.
Some people think it takes less preparation when sorting out the soil beforehand. Another myth! The soil most definitely needs to be prepared properly so that the grass can establish itself succesfully in its new home. That means ridding the soil of existing greenery, tilling the area and removing stones, as well as reducing compaction.
Turf rolls might look different. While you think you're buying from the same batch, that might not be the case. You should always be checked with the supplier in relation to uniformity of the different rolls.
A more detailed look at price
I mentioned above that there's a massive difference in price between laying turf and sowing grass seed. So, I've created a graph to show you the price differences. Of course, one of the mention disadvantages of turf is the handling and shipping. Therefore I've approached it from 3 different angles as follows: