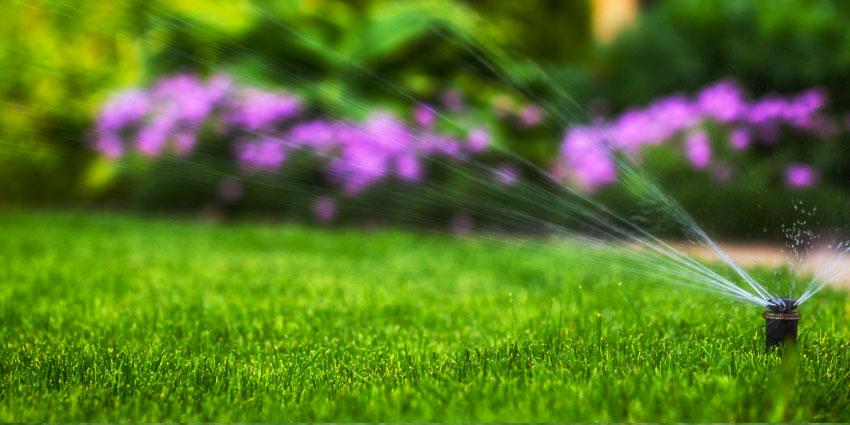 So, you pay hundreds of pounds to have turf laid because you know it will look great immediately. Don't be fooled by the short term success of turf though. If you don't look after it with a yearly feeding programme, then you're gonna be in for a big shock – 'OUCH' when it comes to the following Spring. Especially if your lawn is in the shade.
Your brand new turf can deteriorate fast and I'm sure you really don't want that to happen.
So, in this post I'm giving you some simple pointers on how to care for your newly laid turf. I don't go into a full feeding programme in this article but if you're interested in doing a year round care to keep your lawn looking beautiful, then read this article
Here's an overview of the tips below. Keep reading to find out more about each one
Apply starter fertiliser
Apply liquid seaweed
Keep it watered
Keep off the grass until it has properly settled
Mow little and often (the golden rule)
Apply a seasonal fertiliser
Overseed once or twice a year the following season
Apply a layer of compost
Remove debris and leaves immediately
Apply starter fertiliser
Starter fert does exactly what it says on the tin – gives your new turf a push start by creating a nutritious soil that's perfect for grass. This is the same as pre-turf fertiliser. So, if you applied that then you don't need to use starter fertiliser.
Anyhow if you didn't apply a pre turf fertiliser to the soil beneath, don't worry, it's not too late. Simply sprinkle it onto the newly laid turf and let it work its way into the soil. Water in the granules after applying them to achieve the best results.
Apply liquid seaweed
After about 4-6 weeks, once the turf has had chance to combine with the soil below, you should apply some liquid seaweed. Ours is cold pressed seaweed specifically for lawns and plants, meaning you only need a very small amount to make a big impact. Liquid seaweed has bee proven to increase the bio-diversity of the soil which helps with growth, disease prevention and even weed prevention.
Keep it watered
If there's no rain forecast on any given day for the 2 weeks post laying, you must water the new turf once or twice a day so it can get the water needed to survive the early days of growth.
IN the early days, the crucial days, it won't be pulling up much water from the soil beneath so give it a helping hand by watering it from above. Of course, if there's rain, then it's happy days because you don't need to do anything with the sprinkler. The rain will even help the fertiliser activate the nutrients int he soil bed.
q. How long and how often to water new turf
Watering new turf for approximately 20 minutes twice a day should be sufficient for it to thrive on its new soil bed. The perfect conditions are a combination of sun and rain – one after the other. If rain is forecast and it does in fact rain enough, then you needn't worry about getting the hose pipe out.
Keep off the grass until it has properly settled into the soil
If you have your turf laid during the Spring & Summer where you're always out in the garden, sure it can be difficult to stay off it. But it will pay dividends if you can give the turf a little bit of time to settle in. It means that the roots can properly establish themselves into the soil bed below.
q. How long before you can walk on new turf
The recommended time frame is usually approximately 3 weeks before you can walk on new laid turf. If you can't stay completely off for 3 weeks, then try to minimise usage as much as possible.
For example, avoid laying a blanket down and sitting in one spot for too long.
Mow little and often
Another one that's not always easy. With work, family and house tasks taking over, it's not always easy to find time to mow before the grass gets quite long, especially during the growing season.
However, try to remember that mowing little and often is better that giving the lawn a big trim – the golden rule is to remove no more than a 3rd of the grass blade.
q. When to cut new turf
Approximately 3 weeks after it's been laid. On the first cut of your new turf and most others, make sure the blade is super sharp. If you use a blunt blade, then it's much more likely that the turf will be pulled out and damage, It may not die but it could take a longer time for it to recover from the stress you impose on it.
Apply a seasonal fertiliser
As time goes by, all grass has challenges when battling with the elements of the weather and ongoing climate. That's why having a yearly feeding programme is vital to giving your grass the best possible chance of survival. This is even more important if your garden is in the shade because moss will likely take over in dark, wet and damp conditions.
Overseed once or twice a year the following season
We get a lot of customers telling us they paid for turf last year and now it looks just as bad, if not worse than before. In order to maintain a thick, lush lawn, it's definitely a good idea to give it a light overseed either in the Spring or the Autumn. You should apply your seed at a rate of 25g/m2, that's less than a brand new lawn so it's definitely cheaper to do an overseed than have to start from scratch every year. It's also less work in a short space of time.
Apply a layer of compost
Compost is the perfect organic solution to improving your lawn by increasing the nutrients in the soil. Ultimately compost is the trick to a 100% organic lawn care programme. It also helps with drainage and soil composition.
When applying compost to your lawn, use a broom or lawn leveller to spread it evenly across the bed. Use somewhere between 1KG and 4KG per metre squared. The amount will depend on budget and time but don't forget if you want to do a thin layer first, you can always apply more later in the year.
Remove debris and leaves immediately
Remember, lawn care doesn't finish after Autumn. In fact, doing tasks in Winter will give your garden the very best start for the following Spring.