If you want to make mowing easier, you need to choose the best lawn mower for the job.
If you want stripes on the lawn, you need to choose the right lawn mower for the job.
If you just want green grass, you'll need a mower to help with that.
So, in this post I'm going to compare the different types of mowers you can choose to help with the job of cutting the grass.
Specifically focusing on:
Sharing my current lawn mower setup
Different types available
Features affecting your final choice: bag size, cutting height and stripes
Best choice depending on your lawn size
Best power source: battery vs electric vs petrol
My current Lawn Mower setup in 2023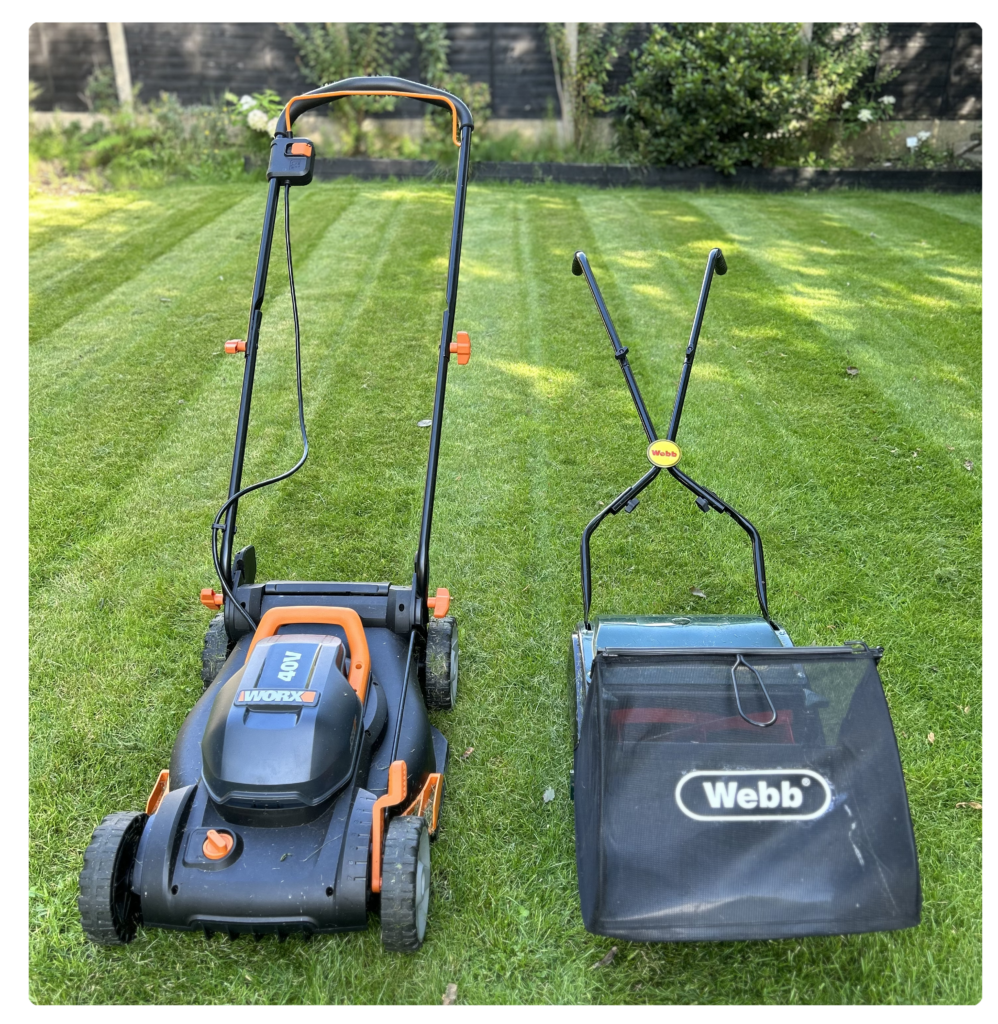 My current mowing setup is to firstly cut with a battery-powered 40v Worx Mower with 40cm width. I use this one to cut it down to a reasonable height (usually setting 3). This cost aorund £300 to buy
Then, I have a Webb 32R cylinder mower for adding the finishing touches (i.e. the stripes) at a cutting length of around 23mm. This one cost around £100 to buy
While I've used lots of different mowers in the past but love this combination for both convenience and aesthetics.
I've written a full review of cordless lawn mowers, so if you're thinking of converting, have a read of that first.
So, let's dive into the different options available to you.
What are the different types of Lawn mowers?
Rotary Mower with wheels.
A rotary lawn mower with wheels uses a rotating blade to cut the grass.
A rotary is commonly used for domestic lawn care and is available in various sizes and configurations to suit different needs.
It's arguably the most forgiving on longer lawns.
Works best on…
Long lawns, uneven & bumpy terrain
Hover Lawn Mower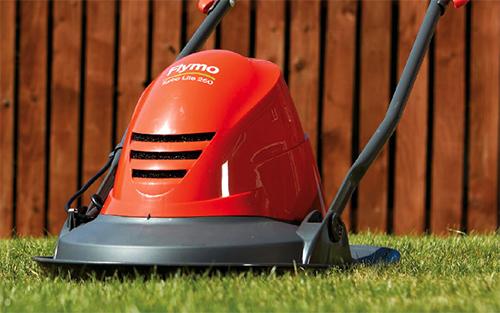 A hover mower, invented by Flymo Sweden in the 1960's, is a unique lawn-cutting device that relies on an upward-facing impeller to create a cushion of air beneath it, allowing it to hover slightly above the ground.
This design enables easy manoeuvrability and mowing across the lawn terrain.
While it's great for easy mowing by providing good agility, in my opinion it's not as good as wheeled mowers on sloped areas. It also won't give you stripes because it doesn't have a rear roller.
As the impeller generates air pressure, the mower glides smoothly while the horizontally positioned blade cuts the grass.
Its innovative hovering mechanism reduces friction, enabling efficient grass cutting with less effort compared to conventional mowers.
Works best on…
Mid-length lawns, sloped terrain
Cylinder Lawn mower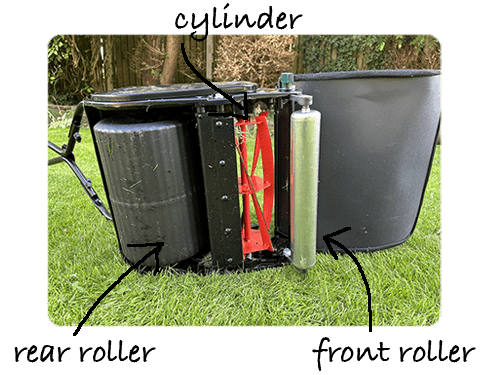 A cylinder mower gives a very precise cut and is bets used on a levelled lawn. The cylinder reel rotates against the cutting blade as it moves.
As the reel spins, the blades create a scissor-like action, cleanly cutting the grass against the stationary blade.
This design results in a very even and close-cut lawn surface, making cylinder mowers popular for producing manicured lawns and sports fields.
Cylinder mowers are either pushed or self-propelled.
They are adjustable to achieve varying grass heights.
Their meticulous cutting action promotes healthier grass growth and a professional-looking finish, ideal for fine lawns where precision matters.
What works for you will depend on a few different factors. So, let's look at those in a bit more detail.
Levelling your lawn with sand can help with manoeuvrability of a cylinder mower.
I wouldn't recommend going too low on newly laid turf because the grass needs time to settle into the soil below and the longer it is, the stronger the roots will be.
Works best on…
Short lawns, flat terrain, weed-free lawn
Features that may affect your final choice
Which is the best mower for stripes?
The one feature that creates stripes is a rear roller. However, some work better than others. Rollers on a cylinder are way better than on a rotary. That said, I did achieve pretty good stripes with my Bosch Rotary.
A hover is never going to give you stripes because it's designed for you to cut in various directions. As opposed to the traditional up and down.
If you don't already have a roller, you can use other 'hacks' to create stripes after cutting. Tools include using a broom or even a levelling lute
How to choose your lawn mower based on cutting-heights
I always tell my customers who buy our lawn feed not to cut the grass too short.
That's why I was slightly apprehensive when I bought my Webb 32R, which cuts at a maximum of 23mm. It turned out that this was a perfect cutting height if I keep it fed (with the best stuff of course) and cut it with the rotary first, then let it recover for a couple of days.
Ultimately, cylinder mowers have the lowest settings, while rotary ones have the most flexible heights, often ranging from 20mm to 90mm.
Hovers are perfect for those in between. They work well on mid-length grass that gets cut before it gets past 50mm.
How to choose the best bag size for you
If you're someone who lets the grass grow a couple of weeks – or even 3-4 weeks – then it's important to think about the bag collector.
Most cylinder mowers have a small collector and to be honest, it's not usually possible to keep mowing right until the bag fills up fully. Unless you pay thousands for an industrial version, of course, like an Allet. That's why I only use my cylinder one after cutting it down first.
Rotary mowers tend to have the largest bags. 30 Litres is normally sufficient for small to medium lawns. If you have a large patch to cut and you leave it to grow long, then you probably want upwards of a 30-litre bag. Thus, less trips to the bin.
My Worx has a 45-litre collection box, which is more than enough on my 70m2 area. Some rotary mowers have collection boxes of up to 80 litres. Again though, this is more of an industrial scale product and most likely a petrol version.
Lawn Mower Storage & Maintenance
Proper upkeep and storage are crucial for maintaining the longevity and performance of your chosen lawn mower type.
Petrol-powered mowers arguably demand the highest maintenance out of the 3 types. While corded rotary or manual cylinder require the least.
If space allows, they should also be stored with empty fuel tanks and outside of enclosed spaces to minimize fume exposure.
This involves checking and changing the oil, replacing air filters, and maintaining spark plugs.
After each use, ensure the gas tank is empty or treated to prevent issues during storage. Store gas mowers in a cool, dry place, and consider stabilizing the fuel if it will sit unused for a while.
Electric mowers, whether corded or cordless, have simpler maintenance.
Corded models mainly require careful handling of the cord to prevent damage. For cordless mowers, battery care is paramount.
For example:
Recharge the battery after each use and avoid storing it for extended periods without a charge.
That said, all mowers have the same basic storage requirements:
When storing any mower, clean the cutting deck thoroughly to prevent corrosion and rust.
Keep the blades sharp for efficient cutting and safety. I like to change mine every season, or at least sharpen them.
Don't underestimate how many stones a mower is likely to chip on while mowing the grass.
Store in a dry, protected area, completely covered to shield it from the elements.
Always remove wet grass for underneath the base. I like to use my Worx leaf jet on my cylinder one to get rid of the leftover grass between the blade and the housing unit.
Assessing the best lawn mower for your lawn size and terrain
What's best for small lawns under 50m2?
If you're not fussed about stripes, then a Flymo hover could be perfect for you. It's very forgiving when the grass gets long and will collect it up well too.
If you want a bit of a striped look, and you tend to let your grass grow quite long i.e. you cut it less than fortnightly then go for a small wheeled rotary mower – either corded or cordless.
Alternatively, if you want a finer cut with stripes, and you're able to keep on top of it regularly, then a cylinder mower is a better choice.
Just remember that most cylinder mowers can't cut longer grass so you'd want to go over it with a rotary if you get it long.
What's best for Medium Sized Lawns 100m2 to 200m2?
If you let your 100m2 lawn grow long, then choose a rotary with wheels. As suggested above, if you want the stripes too, then get one with a rear roller.
If you want much cleaner stripes, then you could add a cylinder mower to your collection. However, I'd recommend an electric one for an area over 100m2 because you'll find it tough (and sweaty in summer) to get a manual one round it.
What's best for large lawns – over 200m2?
If you've got a bigger area to cover, I'd recommend choosing a large rotary. One with at least 40cm cutting width and a bag with over 75L.
The bigger it gets, the more beneficial it would be to invest in a 'sit-on' mower. However, these are going to set you back over £1,700 and are usually powered by petrol.
Choosing the best power source: Battery vs Petrol vs Electric Vs Manual
I've written a full article comparing battery (cordless) with corded mowers
When comparing power source options, petrol-powered mowers offer versatility and by far the highest power, making them suitable for large or tough lawns.
However, they're noisier and of course emit more emissions.
Electric mowers, whether corded or cordless, are quieter and environmentally friendly, emitting no direct emissions.
Corded electric mowers provide consistent power but are limited by their cord length. You might need to move the plug or get a long extension if your lawn is more than 50m2. What's more, you need to be constantly aware of the lead, so you don't mow over it.
Cordless options offer greater mobility and seen as more eco-friendly but might have shorter runtimes and require battery management. They've improved in recent years though (in my opinion).
And that alone has helped gardening companies move from petrol to battery.
Finally, there's manual and these often come in the form of cylinder mowers.
Your choice depends on lawn size, noise tolerance, environmental concerns, and the convenience of managing cords or batteries.
Which lawn mower is the safest to use?
Manual cylinders are super safe because they don't have a cord or electricity. Thus, the only thing you really need to be wary of is cutting your finger on the blade when cleaning it.
Battery and Petrol-powered products also have high safety ratings because there's no chance of tripping over the cord or even mowing over it.
With petrol mowers, there's a need to handle flammable fuels. So, while the mower itself isn't that dangerous, handling and storing fuel can be risky.
Do all mowers come with a warranty?
Different manufacturers and mower models may offer different warranty options. Some well-known and established brands are more likely to provide warranties, especially on higher-end models.
Some retailers also offer their own warranties with specific return policies in addition to the manufacturer's warranty.
Note though, that the retailer might also try to sell you added protection. Personally, I don't pay that extra because I don't see much point.
Warranties don't usually cover damage caused by misuse, neglect, or repairs. So, just make sure you look after it properly.
Remember too, if you want the best warranty, then you might need to register. This is seen by the manufacturers as an effective way of collecting your data.